I've been looking at
anthropologie
for some new vases and came across a Verdant canister with all it's beautiful detail for $78.00. Now I don't know if it's because of all the heart/Valentine's crafts I've been doing with my kids lately but my first reaction was, that looks cool and slightly like layered foam shapes....*idea* why not glue foam to a glass vase and then spray paint it to look like glazed porcelain.
Done.
It was quite the fun project and I love how it turned out.
This is the original Verdant Canister from Anthro that inspired my vase.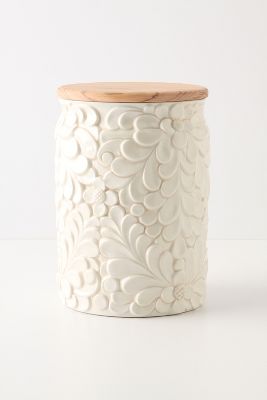 Here is a little tutorial on how to make it.
Take foam hearts and any shaped glass container.
what the ended up looking like (left side)
Then I glued them onto the vase. You could use white glue, mod podge or gel medium.
Let this dry completely.
Then spray on a primer (I used KILZ) let dry and then add two coats of whatever colour of paint (use GLOSS as this gives it a shiny look like porcelain)
One more look. So pretty.
Cost $ 2.25
linking with